Quality, tested safety and service.
The roots and the success story of Florian Eichinger can be traced to the beginning of the company. The company was founded in 1904 by Hans Eichinger in Berching, southern Germany as an arts and craft forge. After a sudden death of Hans Eichinger, his wife Anna Eichinger took over the forge to give her family a living until their son Florian Eichinger was old enough to start working in the family business. Florian Eichinger started serious production of wheel barrows and agricultural equipment in 1934.
Already in 1946, after the second world war, Florian Eichinger increased the product range with construction equipment, concrete skips, mansory equipment and scaffold trestles. He exhibited his man-made products on the first Munich Trade Show (Bauma) after the Second World War. Florian Eichinger had enormous support of his wife Olga Eichinger. They both worked hard on the companies growth during the Germany´s economic miracle. At this time they also started a family of four children.
In the year 1962 the company moved from the back yard and garage of the Florian and Olga Eichinger´s private house (Beilngrieserstraße 224) to Maria-Hilf-Str. 17-23. Here the industrial and serial production of construction equipment began. The product range has enormously enlarged. Florian and Olga Eichinger still worked hard on the companies success and continous growth.
1980 their son Hans Eichinger started to work in the business and changed the legal form of the company to Florian Eichinger GmbH. Hans Eichinger became managerial director since this date. He still had support of his mother Olga Eichinger until she retired. During companies time in Berching, Hans Eichinger started the european and world wide distribution of the products. He worked hard on becoming a recognized leader of manufacturing construction equipment.
In 2006, the company moved to Mühlhausen, An der Lände 10, to a new-built factory and office building. The site is approx. 80.000 sqm. Here, the team of Florian Eichinger GmbH works every day on constant enhancements of manufacturing, logistics and sales processes and also on continous growth.
Authorized distribution partners are world wide your contact persons for our product range. The multi-language employees guarantee service, support and advices of our distribution partners and customers.
Eichinger: on every construction site.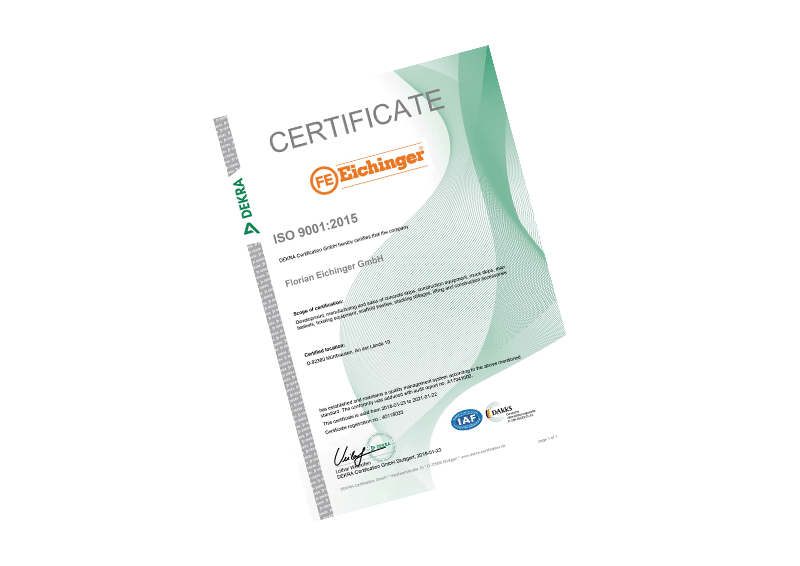 Florian Eichinger GmbH manufactures in compliance with ISO 9001:2015 guidelines. Our products are certified by the German independent authority TÜV Nord that tested the quality and work safety of our products.